Hello again! Just a quick update and an interesting example of how we make our models!
At the back end of last week we put the 3D printer to its biggest test yet in creating
a
28mm British WW2 90cm searchlight. The product contains moving parts straight off the printer. This means we can design it in a certain way so that we can play with the base and the lamp. The initial design was drawn up from the image below and made into CAD ready to be printed.
The searchlight comes straight out of the printer
without any need to be assembled. It's buried deep within a support material with an aroma of marzipan. We peel chunks of the material off to reveal the initial shape of the searchlight. The next step is to take it into a jet wash. This involves us juggling it with massive gloves in front of a rapid stream of water. Afterwards, the support material has all pretty much disintegrated. However, we still place our products into an acid bath just to make sure we have the cleanest plastics possible!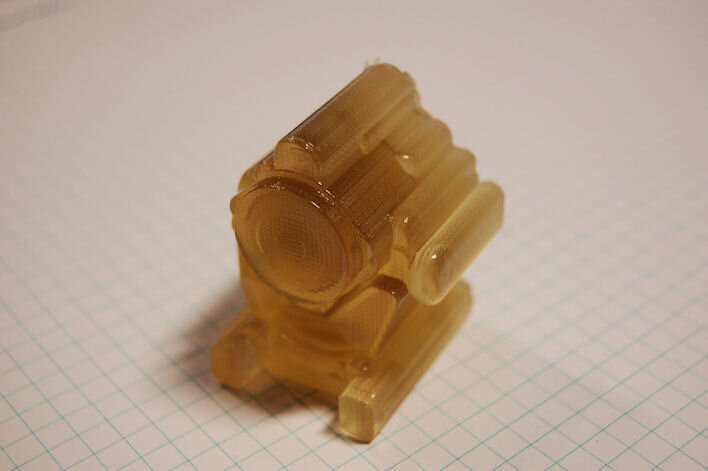 Like the actual searchlight the lamp rotates and the base swivels. This means that it can be brought right into the thick of games. (Or if not, it's something to play with while your opponent takes too long to plan his move!) The finished searchlight is below in two poses. A picture before and after Chris finished playing with it! The yellow glow is brought upon by the support material and is a feature of 3D printed plastics after they've first been produce. This comes clear after a few hours under a strong light.
We're still working on our wargame buildings at the minute. However, we just couldn't wait to show this little beauty off. It proves that we can make one-off showcase prints for a wargamers special occasion. Plus imagaine what an artist could do with it before it ends up on your table!
Like us on Facebook: http://www.facebook.com/pages/Tabletop-Workshop/563457086999981?fref=ts
Follow us on Twitter: https://twitter.com/TabtopWorkshop